Posted by: Usurper MrTeapot Nov 28 2011, 02:27 PM
So I decided to scrap the battle of the moderators and went straight to the source and challenged Matazone himself...in his own town!

First off, we had a pairs battle with SingStar. Although Sony had other plans with regards to the choice of songs, we duelled (foured?) with what we could. Pulp, Evanessence, Kate Bush, Franz Ferdinand...all the greats.

Unfortunately, for you humble narrator at least, the battle was convincingly won by the present Autocrat and the Usurper was seen off, partly due to a difference of vocal chords (and the fact that Mata cheated by knowing the songs). I am sure that if we had gone on past 3am then Master Teapot would be victorious.

1 - 0 to Mata.

The deciding battle was supposed to be a civilised pint. Which soon devolved into an arm wrestling competition, the results of which I have provided in .gif form.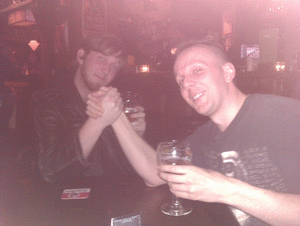 Victory for the Teapot.

For those of you who are crying right now, I implore you to check out the Frog's attempt, note the distress Mata put her through to show how difficult my victory was won. (we also won't mention it would have been a stalemate unless Mata graciously conceeded - shhh!).




So. Don't think the forums are safe yet.

Posted by: Mata Nov 30 2011, 03:58 PM
It was a close run thing, but the battle rages on!

(Quietly... Possibly interspersed with discussion about good books and a glass of nice Belgian beer.)