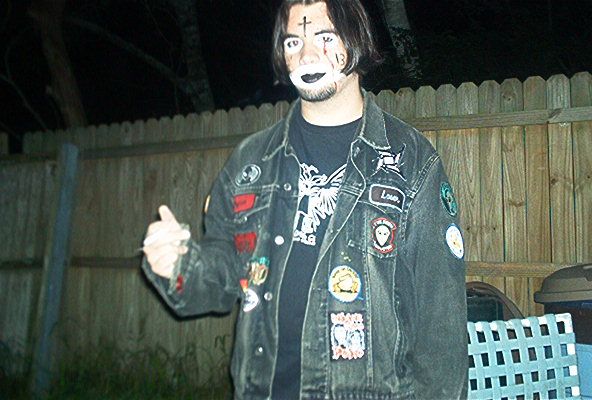 It's not
a
jacket; it's The Jacket. Show some respect
Anyhow, I've been working on The Jacket for about eight years now. It's basically a cross between a scrapbook, memory quilt and security blanket. As silly as it sounds, it means more to me than anything I own. It's a haggard-ass, faded black piece of denim, but it's mine and it's been with me for years. To the best of my memory, only three people other than me have worn it (it's an honor to wear it, and yes Spiffy was one of them).
Now, each patch means something and/or has some historical significance in my life.
Left Arm
The "Generation X" alien patch represents seventh grade, the height of my alien obsession.
The "Build-A-Bear Workshop" patch I got when I visited Spiffy for the first time.
Left Upper Vest
The Metallica quadralellagram is from eight grade when I began to get into metal.
The "Loser" patch I got when my friend took me to Hot Topic to cheer me up after losing a job.
Left Lower Vest
The "I've Been Abducted" patch is from sixth grade when I started getting into aliens.
The "Keep On Truckin'" patch was given to me by my high school wrestling coach, whose team hammered me into a man.
I hate ICP (whose patch is hard to see), but my friend Jon does and Jon's awesome and, therefore, belongs on The Jacket.
Right Upper Vest
The black and silver alien patch I bought off of some kid in my class in the ninth grade. It was the first patch I bought in Florida.
The "PSYCHO" patch makes me think of my friend Lars, who was one of the best guys I've ever met, however the most reckless and dangerous.
Right Lower Vest
The Jacksonville Zoo one was given to me by my little sister, who means the world to me.
The Dr. Pepper patch reminds me of two people. The first is my friend Tim bacause while watching a George Carlin bit, we antiqued him just as Carlin said "Dr. Pepper." The other person is LoLo for when she gave me Hell after I was bitching and complaining about being devoid of the sweet, sweet liquid.
The triangle patch with the rainbow therein commemorate my coming out, however if anyone asks, it's for my friends Meghan and Mandy.
What you can't see is another patch with "PSYCHO" in creepy-ass lettering which I got from a friend of my first girlfriend.
Front Right Arm
The "Beast" patch with the truck on it was also given to me by my high school wrestling coach (his mom was a trucker).
The heartagram patch I got from Spiffy when I visited her last Christmas.
Back Right Arm
Spiffy bought it for me when she spent the summer at my house last year.
Back
THough I hate skull-and-crossbones, my old buddy Flip was a skull-and-crossbones kind of guy.
The DQ patch is to remind me of all the fun times I had when my friends worked at the Queen here in town.
The anarchy patch I got during my first freshman semester at university and all of the things that went down therein.
Right Cuff
This is actually my favorite patch. To me, it represents everything that happened during my eighteenth year of life, everything from getting into drugs, to losing my virginity, to Matazone, to my Mercedes exploding.
God, I love this thing.
Anyhow, what do Y'all think? I'll keep you posted if I get any new patches, I'll let y'all know.
EDIT: I'm dead serious when I say this. If you give me a patch, I'll put it on.