A team from the
Academy of Medical Sciences
have this week said that the current
UK system of drug classification
, A, B, C, is inadequate and unfit for purpose.
They have released an alternative ranking, based on the harm they do to the individual and to society and whether or not they induce dependence.
Their ranking looks like this: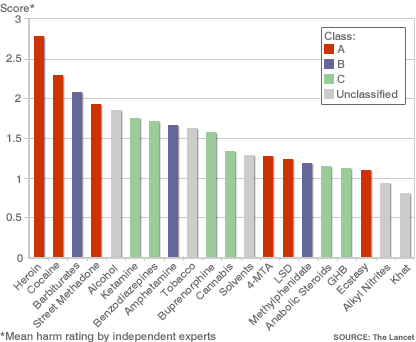 (the colours indicating current ranking)
Professor David Nutt, who lead the team, said "The current system is not fit for purpose. Let's treat people as adults. We should have a much more considered debate how we deal with dangerous drugs."
He also pointed out that 52 people die per year from alcohol poisoning in the UK, compared to 10 per year from ecstasy.
BBC article
What do we think?