Some of you may have noticed that our friend Cand has a new avatar. She does that sometimes.
But what is so noteworthy about this avatar, you say? Is it another trampoline jumping elephant, is it her dressed as a pirate, is it Vic reacting to her nipple? Surely, you wonder, could it really be
that
bad? Yes. It is
that
bad. So bad, in fact, her avatar should be banned in the interest of everyone's safety.
Exhibit A: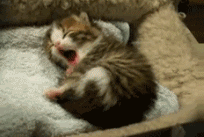 This avatar depicts a kitten - a small, fuzzy, universally adorable creature snuggling into something soft and yawning. Harmless, right?
WRONG!
That's the kind of thinking that makes you vulnerable.
You're typing up a paper for work, let's say, and you happen to scroll past Cand's avatar. You stop. You cock your head to the side and smile and you think to yourself, 'aww'. It's precious, right? So precious that suddenly, you've seen it loop thousands of times, you're late for work, and your boss fires you!
You're driving down the road. You recall the adorable squirming, toothless infant cat, you smile and think to yourself, 'aww'. Suddenly you've swerved and killed an old lady!
Such is the danger of Cand's avatar. I move to strike it from all of Matazone. This is about safety.