Fluffy!
Guess where I went earlier?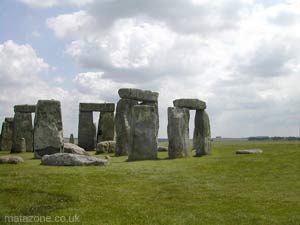 Click for bigger
I've never been to Stonehenge before, but myself and friends were nearby earlier today (well… that should be 'yesterday' as I'm typing this at just gone 1am) so I figured that now would be a good time. It was disappointing to not be able to go closer to the stones, but also understandable, there were hundreds of people there.
The heaviest stone weighs over 40 tonnes and had been transported over 200 miles around 5000 years ago, that's about the same weight as seven elephants, and stone is considerably more stubborn when you're trying to get it to move. At least elephants can be bribed when, for example, you need to get them out of your mini. Goodness knows how they moved those rocks. It's seriously impressive stuff, but loses some of the impact for you not being able to stand among them. It's a bit like having a cathedral and never being allowed to go inside. I feel a bit better about myself for having seen it now. It's one of those things that is part of Britain but you just never really get around to going to see. I really should go back to the Tower of London at some point.
I think when you live in a place it's easy to not bother appreciating the things that you have around you and Stonehenge has been on my list for a long time of 'things that I really should see'. That's one more thing that I've done now!
Myself, Sues, and a friend called Sarah recorded the voice-over for the new Little Goth Girl episode on Friday. I'll be spending most of tomorrow working on editting that down to usable sections (we were laughing rather a lot). I think it's going to be good! I've still not decided on what music to use yet. There won't be a continual soundtrack, but a few little bits here-and-there will add to the piece I think.
'Hope you're all having good weekends!