This competition is closed, and has been since January 2005. How on earth did you get to this page anyway?
COMPETITION!
WIN MATAZONE-THE OTHER SIDE LITTLE GOTH GIRL BAGS!
So, it's a simple enough task, all you've got to do is draw what the girl is running away from:
Right-click with your mouse and save the image to your computer and have a play with it!
Here's a couple of examples: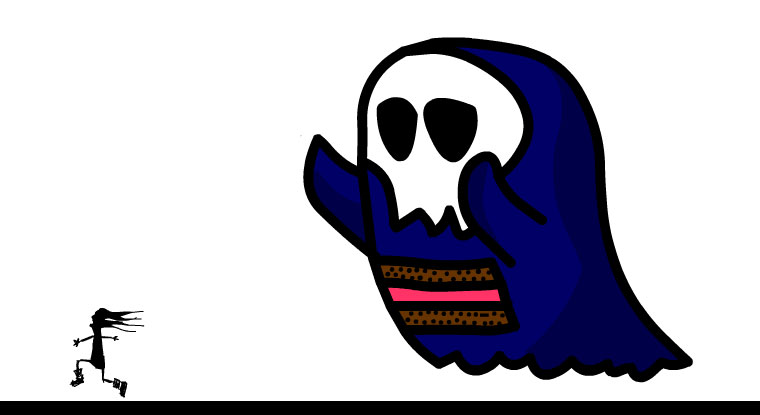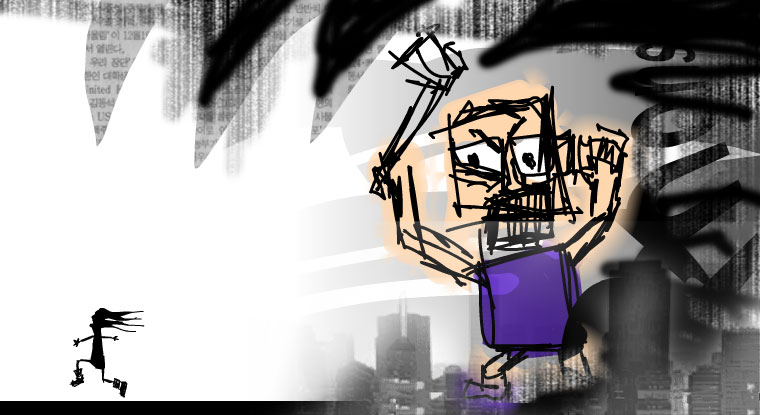 You really can draw whatever you think she should be frightened of. So save the template pic at the top and get drawing! Once you're done then email your picture to me at competition@matazone.co.uk
I'm looking for creativity here, not necessarily technical merit (although if there's both then that's good too!). Express your own personal style to show what you think would make someone run away like that. You are allowed to enter more than once, but please don't completely bury me in entries, send me your best ones if you have lots.
Addtional: On that subject, and because many seem to be ignoring the note down the bottom of this page
DON'T SEND ME .bmp FILES!
If you are using MSPaint then when saving your picture select 'save as...' and from the 'Save as type:' drop down box select the 'JPEG' option. This makes the picture size far smaller and saves my email account from bowing under the pressure! Generally the best file type for entries is .jpg .
There are four main prizes, so four winners, each getting to choose which bag they'd like in order.
The winners will be decided on by me on 25th January
(so I should be able to get a bag to you in time for a Valentine's day present if you're male and get the option of the more feminine bags).
So what are the prizes? There's four bags, plus any entries might turn up in an animation next year (you will be in the credits, of course). Here's a peek at the bags:
| | |
| --- | --- |
| LGG bowling-style handbag | LGG shoulder bag |
| | |
| LGG A4 size school bag | LGG mini-rucksack |
(images not all of the same scale, the school bag is bigger than the other ones)
Cool aren't they? They're available in small gothy shops around the UK. If your local shop doesn't have them then get them to order some from Blue Banana, they'll know who that is. I've not seen anywhere online that's selling them yet, so if you're in the US and win then you might have the only one of these bags on your continent! If you do see them online then please drop me a line at the address above!
The formal bit:
The usual rules apply: my decision is final, only your own work is allowed, don't use anything copyright to other people, all entries may be published on this site and become copyright to it and by submitting it you agree to this, no cash alternative to the prize is available and the choice of bags will be given in order of places (1st price gets first choice, 2nd second choice, etc.). Should the winner not respond to the email notification of success by the first of February then everyone else will get bumped up the list and the first prize winner will forfeit. All files should be sent in a recognised graphic format, preferably .jpg . Any unusual file types will be deleted without being viewed so stick to .jpg .gif or .png please! There is no physical-mail picture submission. Please do not send .bmp files; they are huge, and even MSPaint can save in .jpg format. I reserve the right to edit these rules as I see fit, because it's my site and I can do whatever I like :)
Cheers, and happy creating!