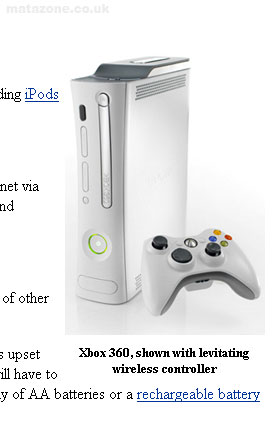 Woah! Amazon.co.uk have revealed that the XBox 360 controller is capable of levitation! Fantastic! I was probably going to be waiting for the $ony Playstation 3 to come out next year, but with the floating controller technology I think Micro$oft just might have converted me. Click here to witness the spookiness
(before they remove it).
Don't forget though, this marvellous aspect of the technology is only available in dear old Blighty, the colonial lot across the pond get a boring gravitationally-conformist controller. Click to witness the drab US version
. Hurrah for Britain! And for bored copy writers!
(Found by Mwongozi.)